Sunshine Soup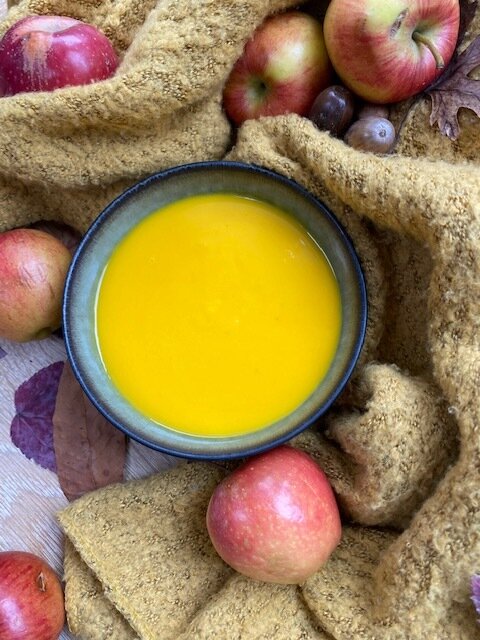 Ingredients
2 shallots, peeled and finely diced

1 -2 large sweet potatoes, or 1 butternut squash, peeled and roughly diced

3-4 large carrots, peeled and cut roughly diced

2 large Bramley apples or other tart apple varieties, peeled and roughly diced

1/2 thumb ginger, grated or diced

1 heaped teaspoon ground turmeric

950ml or 4 cups water, vegetable or chicken stock
Instructions
In a large, heavy-bottomed soup pot add 1-2 tbsp. oil and bring to a medium-high heat. Add in your shallots, ginger and turmeric cook until translucent and fragrant, approx. 4-5 minutes.
Add in the peeled sweet potatoes (or squash), carrots and apples, then give your ingredients a good few stirs to combine and coat with the oil and aromatics. Cover and let cook for approx. 5 minutes, or until the apples start to break down ever so slightly- they shouldn't take very long. You should already begin to smell the sweetness of the carrot and sweet potato.
Add your water or stock to the pot, turn the heat down to a low/medium, and simmer away until everything is soft. Then blitz in the blender, smile and serve. You can always finish with a little pad of butter or splash of cream/milk for extra silkiness.
Notes
About the Author - Adrienne Katz Kennedy is Pickle & Rye's number one fan (also she's their copywriter!). An Ohio native and UK citizen Adrienne spends her time juggling between her career as a writer, feeding her two daughters and husband, and drooling over everything that comes out of the P&R kitchen. In her spare time you can find her researching the history and culture behind some obscure ingredient or attempting to grow things in her tiny garden.