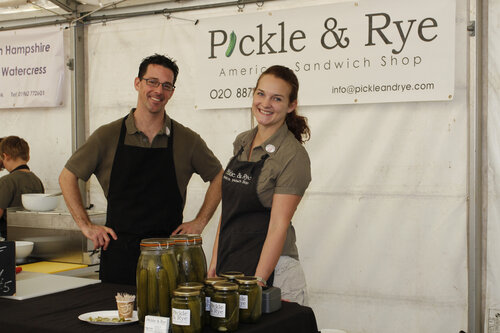 Founders Alex and Val met each other by chance, in an unfamiliar environment (two Americans living and traveling in the UK) through a discussion about food, soon realising they shared a deeper connection. As their relationship progressed, so did their belief that good food was as closely connected to family and the comforts of home as it was to travel and adventure. In attempt to marry both, and shortly before marrying each other, Pickle & Rye, a small home-style American café set in East Sheen, London was born.
In 2010 in its early days, before there was such a widespread American influence in London, Pickle & Rye was a simple sandwich shop, showcasing the humble sarnie and showing local residents it could be so much more than a piece of rubbery ham slapped in between two slices of lackluster industrial-made bread. The menu focused on homemade ingredients from the pickles to the sauces, to the salt beef, just like Val and Alex's childhood dictated it should be.
As local families started to pile into Pickle & Rye's cozy, comforting arms in search of truly satisfying sandwiches, Val and Alex knew it was time to expand.
Now open for brunch, lunch and dinner Pickle & Rye offers Londoners a true American experience, no gimmicks or formal attire required. Our food fosters a sense of family; made from wholesome, real ingredients, and packed full of flavour. From blueberry pancakes and eggs Benedict to juicy burgers, mouthwatering sandwiches, seasonal pies and baked goods and glorious milkshakes, our food is made fresh to order and served in a relaxed and welcoming environment.
At Pickle & Rye we believe good food doesn't require fancy cutlery or exotic ingredients to be enjoyed, and everyone is always welcome at our table.