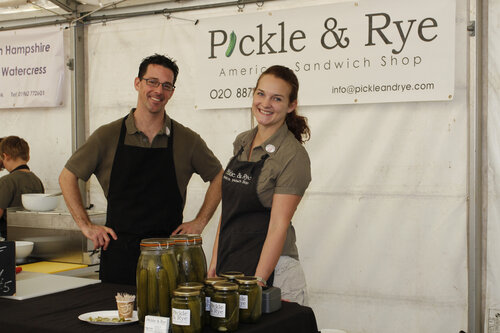 Classic American food is what we're all about.
Thirteen years of Pickle & Rye has given us so much to relish. What began as a humble 10-seater sandwich shop is now a fully stocked, family friendly American restaurant. What a long, strange trip it's been!
American-born husband-and-wife founders Alex and Val met by chance through a discussion about food and its connection to family, travel and feelings of being well cared for. They soon hatched a plan to bring together Alex's professional chef training, Val's penchant for hosting and their American food cravings to form Pickle & Rye— a small home-style American café set in East Sheen, London.
In its early days Pickle & Rye was a just simple sandwich shop. The menu focused on homemade ingredients, thoughtful combinations and generous portions, just like Val and Alex's childhood dictated it should be.
As local families started to pile into Pickle & Rye's cosy, comforting arms in search of satisfying door wedge-style sandwiches, Val and Alex knew they were onto something, and it was soon time to expand. In 2013 Pickle made the leap by relocating to a larger premises and opening its doors for more American food traditions, weekend brunch offerings, and a selection of juicy burger options shortly thereafter.
Thanks to unwavering support from our customers Pickle & Rye moved once more, and now proudly sits in on East Sheen's high street. Bigger and better with a slick modern diner interior, an expanding menu AND a newly refurbished bar to watch your favourite American sports team, we settled into our new home just in time to celebrate our 10th year in business in 2021! Not only have we managed to keep our ovens on, and doors open for take away and delivery throughout out the pandemic, but we also successfully crowdfunded over £30,000 (that's 3 times our original goal!) to fund our new Pickle HQ. Check out our supporters HERE.
Now open for brunch and dinner 5 days a week plus takeaway or delivery Pickle & Rye is committed to offering Londoners a true American experience, no gimmicks or formal attire required.
At Pickle & Rye we believe good food doesn't require fancy cutlery or exotic ingredients to be enjoyed, and everyone is always welcome at our table.
We invite you to email us, call us, message us and let us know how we can cook for you! Want to celebrate a birthday party, organise some of your buddies to come watch a game, or host a boozy brunch? We're IN! our mission is simple, American comfort food served with a smile and a pickle on the side.
Peace, love and pickles,
Alex & Val