Remember all those months ago when we rushed to the shops to bulk buy pasta and tins of tuna? I mean what the hell are we to do with 9 tins of tuna and penne to feed an army?! Time to use them up baby, Midwest-style!
Have a go at Val's ultimate comfort dish: Tuna Noodle Casserole. It's the perfect one-pot wonder that will give you all the warm and comfy feels you need as the weather turns a bit crisp, and the trees are changing colour. As school begins, this week and next – this recipe is a crowd-pleaser!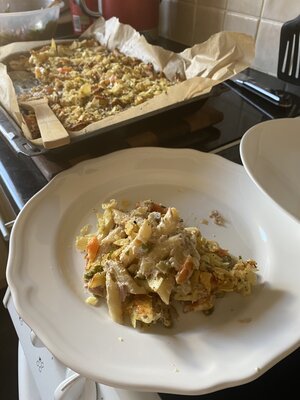 View this post on Instagram

 
Ingredients
3 cups pasta, cooked al dente⁠

1 can cream of mushroom soup⁠

1/3 cup Greek yogurt⁠

1/3 cup mayo⁠

2 carrots, peeled & diced⁠

2 ribs celery, diced⁠

1/2 white onion, diced⁠

1/2 cup peas⁠

2 tins tuna⁠

a handful of chopped parsley⁠

seasoning salt (P&R's everything seasoning is perfect here!)⁠
Instructions
Finely dice all veggies, then saute onions, carrots, and celery until softened. Cook pasta.⁠
Pre-heat oven to 170C/350F.
In a large bowl, mix together cream of mushroom soup, mayo and yogurt, adding in the softened veggies and tuna followed by the cooked pasta.
Season to taste with the seasoning salt.
Line a lasagna-sized pan with parchment paper, then scoop tuna/pasta mixture into the dish until even.
Top with a handful or two of grated cheddar cheese, crushed potato chips(!), and a handful of chopped parsley. ⁠
Bake for 30 minutes until the top is golden.
Notes
Serve along with a fresh salad for balance.