Grandma Eddy's Cherry Rolls have been a breakfast staple on Christmas morning for as long as I can remember. At the age of 11, I made these for the first time together with her, watching every move with anticipation and excitement. I only wish I had enough sense many years later to remember each movement she made. Living in the UK, we aren't able to make it back to Iowa for as many Christmas mornings as we would like, but that has not stopped me from attempting to make her delicious cinnamon rolls.
It's taken many tries to get it right. My first attempt, I'll admit, wasn't even edible. In a failed effort to source sour cherries, a staple of my grandma's rolls, I decided just to sour my ordinary cherries. Bad call, it did not turn out well.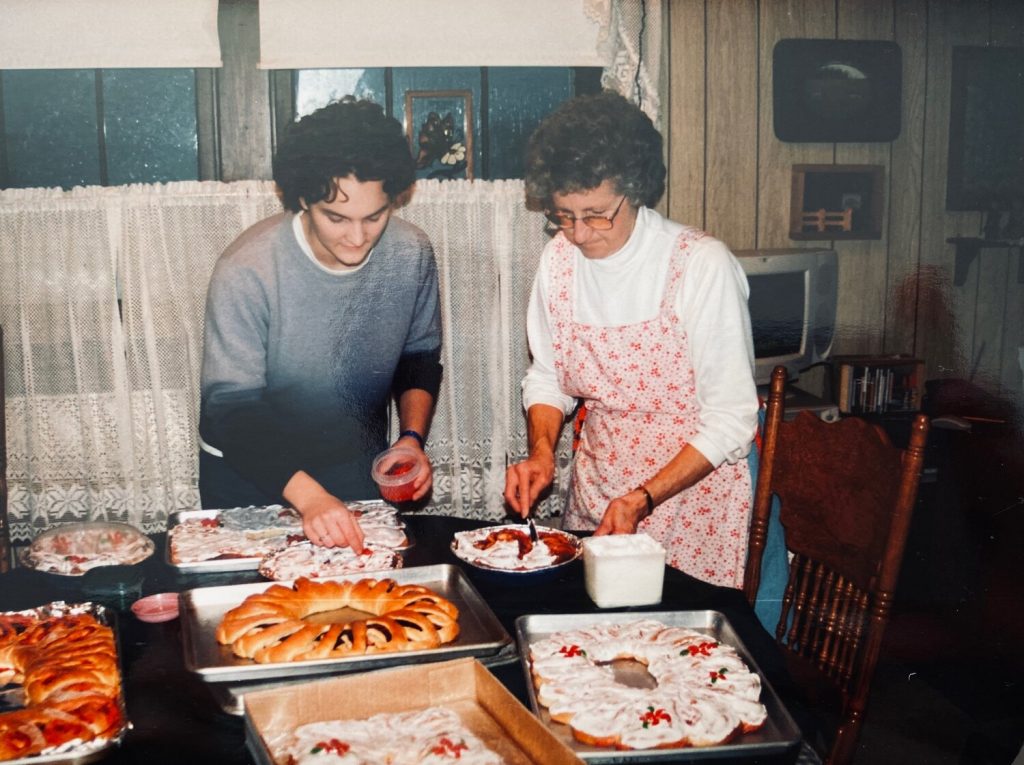 he second and third attempts were equally wrong. I didn't take the time to understand the recipe. Bread making is an art form.
One of my mentors and friends was traveling to the UK after her retirement last year with her husband. In addition to our shared love for theatre, we also share a passion for cooking and baking, and I took advantage of her vast bread-making knowledge. Often when visiting, we would be talking about bread.
From flour, water, salt, and yeast to which mixers are best, I felt my bread knowledge and understanding rise (pardon my pun) and expand. I discovered not all flour is created equal (bread makers are having a good chuckle at this point!)
I did my best to bake as much as I could while my mentor was visiting, to treat her to something delicious when the efforts were a success, and to talk through my mistakes when they weren't. I attribute finally getting grandma's cinnamon rolls right because of her.  
Since this experimentation and eventual success, I've modified my grandma's recipe – please don't tell her! I've swapped out the plain flour in the original recipe for strong bread flour, used milk instead of water, and butter instead of shortening. The original recipe remains delicious, but some of these ingredients, I think, were a sign of their times (the shortening especially) and I've updated them to reflect the current one. I admit, my love affair with butter is fairly well documented. Be prepared – this recipe calls for a lot of it!
I think the hardest part about making any type of bread is the yeast. In this recipe it comes down to a few simple science lessons:
Make sure you don't heat your milk too much.

Make sure your yeast isn't old. If you don't see the foam on top, it's not going to work. 

don't over knead your bread, kneading is activating your bread, but going to far past it will end up hard. You want it to be slightly sticky to the touch.
And if you want a classic cinnamon roll, simply omit the nuts and fruit. You will be happy either way. 
Grandma's Cherry Rolls
Dough
2½ tsp. dried active yeast
1 cup or 250ml whole milk
32g or approx. 8 tsp. granulated sugar, plus extra 1 tsp. for yeast
1 egg plus 1 yolk
4 tbsp. 55g unsalted butter melted
385g or 3 cups + 2 tbsp. bread flour
a pinch of salt
Filling
30-40g or 2-3 tbsp. unsalted butter softened
150g or ¾ cup brown sugar
1 tsp. maple syrup
65g or ½ – 2/3 cup chopped nuts
175g or ¾ cup sour cherries or any fruit: apples, raspberries, blueberries etc.
Frosting
120g or 1 cup cream cheese
15g or 1 tbsp. unsalted butter softened
75g or ¾ cup powder sugar
1 tsp. almond or vanilla extract
For instructions, check out our how-to video below! Please email [email protected] with any questions you have and she'll happily guide you through. Happy baking!