Pancake, crepe, griddle cake, flapjack, Johny cake, blinz, blini, pikelet, hotcake…whatever you call them Shrove Tuesday, also known as 'Pancake Tuesday' 'Pancake Day' or 'Fat Tuesday'  taking place on March 1st this year, is a great reason to make them all!
Ever since we started serving breakfast here at Pickle and Rye, one of the most popular items has always been our American-style pancakes, which we serve stacked high, accompanied by bacon or fruit and a 'healthy' portion of pure maple syrup. Unlike crepes; the French version, known for their paper-thin texture and often stuffed with either sweet or savoury fillings, American pancakes have become synonymous with an indulgent stack of thick, fluffy disks served primarily at breakfast time and topped with a heavy hand of maple syrup. Have you ever wondered the history behind the American pancake, and why they became such a symbol of American cuisine?
American pancakes began their life made not from flour but from cornmeal resembling a denser and earthier texture closer to that of cornbread, rather than the modern day diner staple. This was due to the native crops of corn grown in America, prevalent in the Indigenous North American diet before contact with Europeans. With the arrival Columbus and the Spanish settlers came the introduction of wheat into the American diet, and eventually through a complicated history of colonization and industrialization, wheat flour became the dominant grain in everyday foods. Pancakes, now made from inexpensive wheat flour plus a rising agent soon became a staple of the quintessential American diner; open late into the night but serving breakfast round the clock and reliant on the use of a grill to cook most foods for quickand easy service.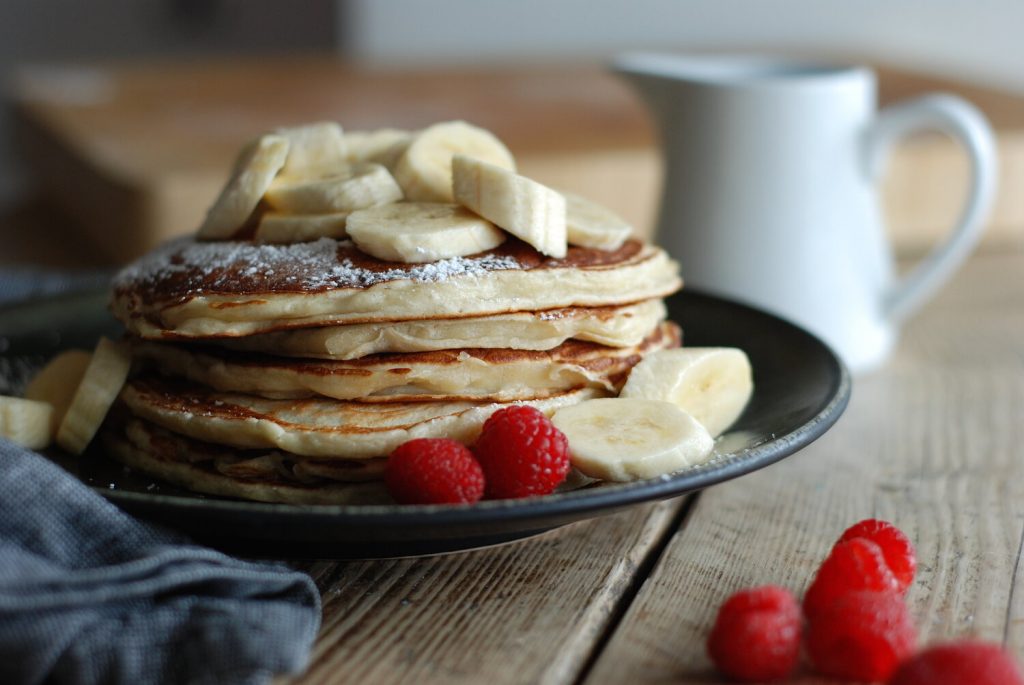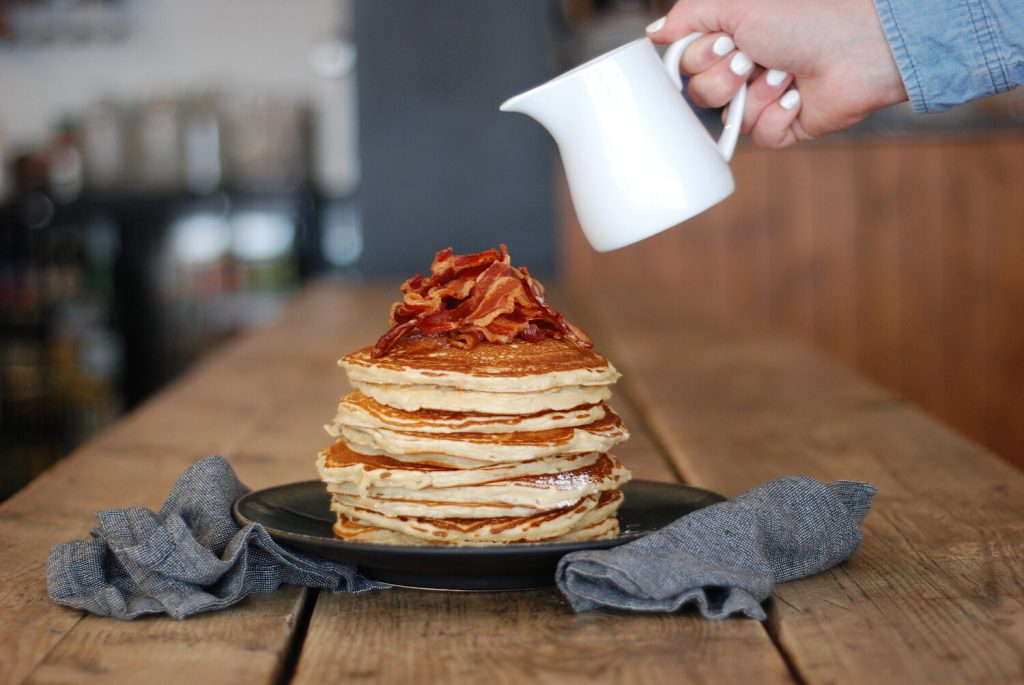 The thing that now sets American-style pancakes apart from most other pancakes is the use of a rising agent (like baking powder or bicarb) in the batter, used to create that light and fluffy texture. Not everyone prefers making them this way (American President Thomas Jefferson is infamously known for his loyalty to the French version instead) but we at Pickle and Rye can't imagine our pancakes any other way. 
If you really want to push the boat out on Pancake Day and fly your stars and stripes with pride, don't forget to add buttermilk to your American pancake batter! And maybe some streaky bacon and a good pour of maple syrup on top…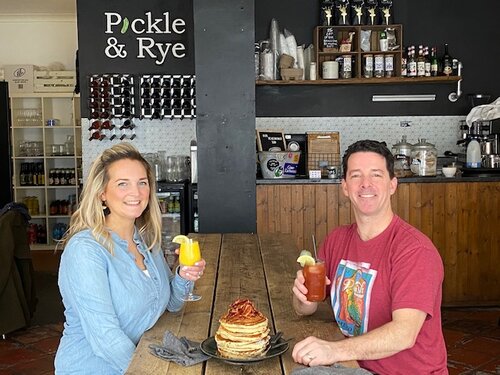 Chef Alex's Classic American Buttermilk Pancake 
makes 12-16 pancakes
450g plain white flour
68g or 1/3 cup granulated sugar
1 tbsp. baking powder
1 tsp. baking soda
¼ tsp. salt
4 eggs
400ml buttermilk
325ml whole milk
1 tsp. vanilla
68ml or 1/3 cup vegetable oil 
In a large sized bowl, combine and mix dry ingredients.
In a separate, medium sized bowl, lightly beat the eggs, then pour in the remaining wet ingredients (buttermilk, milk, vanilla & oil) and whisk to combine. Add to dry mix and mix until you have a thick batter, with no pockets of flour.
Lightly oil griddle or frying pan on med-high heat. Pour approx. ¼C (60ml) batter per pancake, taking care that there is room for each to expand and you don't overcrowd the pan or griddle. When the sides of the pancake appear dry and firm and the tops are bubbling with air pockets, gently flip and cook until done and golden brown, about another 90 seconds or so.
Keep on a plate, in a slightly warmed oven (50°C or 120°F) until ready to serve, alongside your favourite toppings.