If you live in the South West of London, you have likely have seen Tastes Like Tom in your social media feed. Their moreish bars are enough to leave anyone salivating, but on top of the skill in the kitchen, their goodwill and work in the community restore our faith in people when this year has left us in short supply.
They are that special and we wanted you all to get to know the three behind TastesLikeTom a bit better too.
Where are you guys from? Oxfordshire but lived in London as a teenager before moving to Sheffield, then back to London via Birmingham. Mum is English dad is American. Abbey says she's from Newcastle but is actually from Sunderland and has family ties in Barbados.
Where do you live now? Twickenham. Love the access to parks and the river especially this year.
How did you start cooking and baking? I've (Tom) have always loved cooking, even as a kid. My mum was an amazing cook and my inspiration. She would make incredible meals for the family despite not being able to eat most of it, due to allergies. Baking, however, became an escape from other more destructive sins, when I was a bit older. There is something scientific and precise about it that made it different from my normal 'throw it in and see', cooking style. Hilariously, I haven't got a sweet tooth personally, but love to make things for other people and make them happy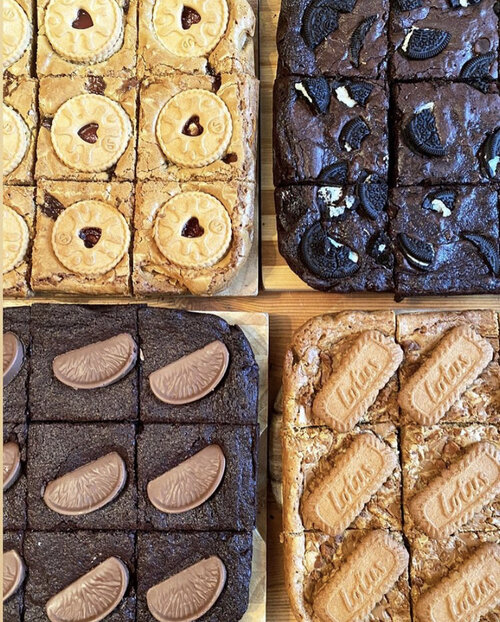 Now tell us about TastesLikeTom! How did this venture begin? Tasteliketom was born out of the first lockdown. I am (Tom) the chef/hubby/daddy, Abbey is social media/wife/mummy, Marley is baby/sous chef. Something to keep us mentally stimulated, whilst celebrating our passion for food. We quickly gained a big following, much to our surprise – couldn't figure out why people were so keen to know what we were having for tea!
I would often make cakes and things for family occasions and once I started posting these and we started to get requests, it seemed like the perfect way to keep ourselves afloat during the pandemic. The cook longs and other things came after, from the work I do in my 'real job' as a trainer in the hospitality industry.
How has 2020 and Lockdown affected you? I had recently lost my job and foresaw a struggle to find something else in what is a tough time for the industry. Thankfully TLT has opened a few doors and given us a good base to build on. We have been lucky during the pandemic to all remain healthy and have so much time together. Our hectic lifestyles were turned upside down and now, whilst still hectic we are certainly together more as a family
What is your favourite dessert? Just one? That's too hard! It would have to be chocolate of some kind (although I do love a good cherry pie!) Love white chocolate and caramel too. Ooo and cookie dough! Maybe just throw all that in a bowl?
What is a day like for TLT? I'm either cooking/working on recipes, baking, posting/delivering brownies, filming, editing. All between trying to look after our Son Marley who is 2 and home with me most of the time. You may have met Marley on deliveries!
Favourite ingredient to bake with? Changes all the time but right now it's pistachio or hazelnuts in the baking and nduja or sesame oil in cooking
What is the Quintessential British Dessert? Bread and butter pudding. 'Nough said.
When you aren't baking tasty treats you are…. Playing with Marley, walking our dog Princess Leia or enjoying the great pubs (when we are allowed!) and sights of Twix and Richmond. Oh, and eating!
Please follow @TastesLikeTom on Instagram – and even better support small business and buy a box (or TWO) and make your heart and your stomach feel good.